Prague, September 10, 2015 – the newly designed 4th year of the CFO Congress entitled "An efficiently experienced day with another CFOs" gave participants plenty of room for parallel consultations, and supported thus the CFO's desire to give more time to specialized topics. Inspiring backdrop for a meeting of 120 CFOs and directors was provided by the Clarion Congress Hotel in Prague. The conference unfolded from the initial analysis of Czech macroeconomic situation and news from the world of financial management in relation to internal clients, suppliers and technologies. For the first time one of the panel discussions was focused on Big Data.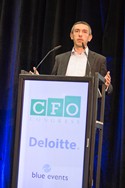 First part of the plenary program, Financial Agenda 2015, was moderated by Daniel Stach, editor and moderator of Czech Television. David Marek, chief economist at Deloitte analyzed topics like macroeconomic prospects for 2015 and what should CFOs take into account when drafting a plan for 2016 and beyond.
"We need growth, but just in the way not to get derailed. The employment rate is the lowest in the history of the country. The global economy will slightly accelerate the pace of growth, particularly of the US. BRICS emerging markets (China slows, Russia and Brazil are in recession) are becoming a brake. Eurozone hurries nowhere, Central Europe is much livelier. The Czech Republic goes full steam ahead, with a staggering growth rate of more than 4%."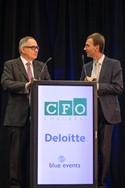 Traditional and alternative ways of corporate financing were introduced by Karel Soukeník, CFO & COO and Member of the Board, Sberbank and Lubor Žalman, Partner, Encore Capital Management.
The basic question of every CFO is: "How much and for how much?" Lubor Žalman says: "The CFO is choosing method of financing according to the situation and needs. The simplest are cheap loans from banks, if we can get them. When we need a small or a quick loan, we choose other financing alternatives. Debt and capital market don't work here. Other options include mezzanine funds, subordinated debt, peer 2 peer platforms, angel investors, crowdsourcing, venture capital, private equity and IPO." Karel Soukeník says that: "In the Czech Republic the bank financing is the most accessible in Europe, the average loan rate is 3,2%. Security requirements grow, complexity is increased by 19%. Exceptionally great confidence in the negotiation of bank loans is apparent, but there is very little confidence in dealing with alternative sources."
Pavel Jirák, Executive Director, Human Resources, Komerční banka, spoke in his contribution about challenges of traditional and non-traditional HR. "The ideal employee should be hardworking, open, optimistic with a sense of humor. The labor market situation has improved and unemployment fell below 6.2%. In the banking and finance sector the quality of mainly young job seekers is poor, there are missing people for marketing, big data, and specialists in small businesses financing." Therefore Komerční banka has a project "The right people in the right places", by which it wants to keep and educate key employees. Particularly by increasing managerial culture, change in approach to subordinates, flexible duties, shared positions and the possibility of home office. Technology can help especially in communicating with the generation Z, Komerční banka, for example, introduces a new intranet with communication elements based on social networks.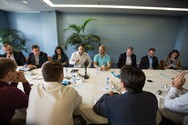 The following parallel workshop concentrated on why they CFO should not miss the issue of Big Data. Panelists Pavel Doležal, Partner, Keboola, Maroš Horňáček, Managing Partner, Mediaservis, Petr Ladžov, CFO, Zoot and Jaromír Švihovský, CFO, Rockaway Capital focused on the facts to myths about Big Data illustrated by case studies. Lively discussion moderated by Filip Doušek, SAP Solution Architect, MIBCON clearly demonstrated that modern technology today allow to process large amounts of data quickly and cheaply. This opens up a whole new chance to manage the business using interconnected financial, procedural and operational, sales and marketing data. Companies active in the field of e-Commerce and other players in the new economy already intensively use this competitive advantage, the others are following. A CFO can play a key role in this.
The second panel focused on the current view on trends in controlling, operating models and strategy of the financial department in a period of change was led by Marek Kouřil, Senior Manager, Consulting and Lenka Neuvirtová, Head of Audit Advisory, both from Deloitte. The discussion was attended by four panelists: Tomáš Cibulka, CFO, Slevomat, Martin Knebel, Vítkovice Steel, Jan Hruška, CFO, Partner in Pet Food and Michal Rozehnal, CEO, Reporting.cz.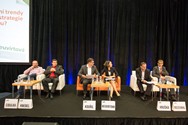 Discussion came from a Deloitte survey among CFOs, which was focused on business. The annual forecast has changed, the most important is sales growth and expansion. The task of controlling is the search for compromises and balancing risk.
Marek Kouřil introduced trends and challenges of controlling in planning, budgeting and forecasting: "Controlling is not only the cost accounting, but the entire performance management system - guide on the way." The role of controlling is to plan, predict and evaluate, to be a business partner, as it provides the necessary information for comparing the plan and reality, and the integration of risk and profit. Controlling enters into discussions and provides the correct information. Current challenges are how to get more difficult economic challenges and rapid predictive management information to the decision-making.
The panel discussion included topics of the areas of equity and secondary solutions for cloud reporting, a shift from looking to the past to predict the future in controlling, finding best practices and operational models. Companies of panelists are facing the challenges of how to understand the operation of the company and changes in the business model, with a new look at processes, better analytics and extractions of collected data, and how to adjust forecasting speed to more and more turbulent environment. Jan Hruška commented the impact of technology on controlling: "The new IT equipment is needed, but the most important is the alignment of terminology and communication with users."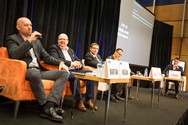 In the afternoon lively discussion the Congress participants learned a lot about what is actually happening in companies. Six panelists shared their views and experience with an audience: Jaroslav Barták, General Manager, Walmark ČR & SR, Jan Bechyně, Controlling Director, O2, Vít Vážan, CFO, České Radiokomunikace, Marian Rašík, CFO, Pegas NONWOVENS, Martin Rozehnal, CFO, Marks & Spencer Czech Republic, Václav Řehoř, CEO, Český Aeroholding. Among the hot topics there were the requirements of CFO in relation to CEO and vice-versa, changes in financial management related to the change of the company owner, the criteria for selecting private equity investor, nightmares of CFO and controlling, working with HR on selecting and retaining key employees and also the biggest challenges for the CFO today.
Vít Vážan characterized the relationship of CFO and CEO as follows: "It should be a long-term partnership, almost like a marriage. It evolves from romantic ideas to reality. The Board of Directors or Supervisory Board then plays the role of mother in law."
Current challenges for the CFO have a lot to do with the emerging economic growth, which is reflected in increased costs for obtaining and retaining quality employees. For Martin Rozehnal this year's challenge is "recovery in consumer demand," Václav Řehoř's advice is: "Have the aggressive growth under control because pride comes before a fall."
Václav Řehoř also concluded this year's CFO meeting with an optimistic recommendation: "Just do what you enjoy. Then it works!"
The 4th annual CFO Congress was organized by Blue Events in cooperation with expert guarantor Deloitte and was supported by number of important partners.